Spring is on its way!!
THANK YOU WONDERFUL READERS AND SUBSCRIBERS.
I LOVE HEARING FROM YOU.
Get the latest in Katie and Maverick Cozy Mysteries,
the inside scoop on sales, special offers, prize drawings, and so much more, including photos of places Katie and Maverick Cozy Mysteries have been visiting.
Read to the bottom to see if you won this month's prize or be the twentieth solver (in honor of the equinox and the launch of book 5) of this month's logic puzzle for a free copy of a Katie and Maverick book of your choice.
FISHING, FESTIVITIES & FATALITIES
KATIE AND MAVERICK COZY MYSTERY BOOK 5
DEBUTS MARCH 16, 2023
PREORDER NOW!
THE STORY
Christmas break is a wonderful time for decorations, hot chocolate, snuggly blankets, caroling, and … fishing! Katie Wilk is celebrating her first Christmas with her dad since the horrific shooting that nearly claimed his life, and when they are invited to participate in their small town's ice-fishing tournament, they readily agree.But the ice is a treacherous place, and one of Katie's students accidentally falls through, creating a harrowing situation and a rescue by Katie and her trained black Lab, Maverick. Later, Katie discovers the spot where Brock went into the icy water was deliberately cut, and the real intended victim turns out to be one of the town's least lovable, curmudgeonly charactersBut what really pulls Katie into the thick of the investigation is that Dr. Pete Erickson, the man who makes her heart beat faster, is accused of murder. There's no way Katie can let that go! Ignoring warnings to stay out of the case, Katie and Maverick track leads in what proves to be their trickiest investigation so far.
BUY KATIE AND MAVERICK COZIES MYSTERIES HERE!



BE THE TWENTIETH SOLVER AND WIN A KATIE AND MAVERICK BOOK OF YOUR CHOICE.
The fishing contest in Columbia has winners in four fish categories-northern, walleye, perch and eelpout-and each of Katie's fishing teammates-Brock, Carlee, Lorelei and Harry-took a different place (first through fourth) for their catch. Sort out who caught which fish and what place the fish earned and email your answer to maryseifertcozies@gmail.com
LOGIC PUZZLE
Harry caught the walleye.The walleye secured two places lower in the ratings than the fish Lorelei caught.Carlee caught either the northern or the fish that took 4th place.The eelpout took third place.50% discount on all titles ONLY ON Smashwords for one week FROM MARCH 5 – 11!
SMASHWORDS SALE MARCH 5 – 11
THE WRITE STUFF
With a ten days of vacation, I was able to read and share books and titles with one of my beautiful sisters and my gorgeous sister-in-law, walk every day, eat great food, and share fun memories. These books were all the best, each in a different way.

David Baldacci  Long Shadows
Mary Kubica Just the Nicest Couple
Kristi Belcamino Coming for You
Jennifer Chow Death by Bubble Tea
Janet Finnsilver Murder at Redwood Cove
Ann Goldfarb Face Out of Time
John Gaspard The Opening Nightmare
Hank Phillippi Ryan Trust Me
Jennifer J. Morgan Shadow Retreats

I am looking forward to attending Left Coast Crime Trouble in Tucson. I get to be on the Animals Panel, Saturday at 2:45and hope to see some of you there.
THIS MONTH'S PRIZE WINNER!
Each month I draw a name from among my subscribers.
Check this section each time to see if you were chosen!
If your email address begins with
JULIEAROW
CONGRATULATIONS!
You've won an Amazon gift card!
Email me right away so I can get your prize to you!
maryseifertcozies@gmail.com
If you read MAVERICK, MOVIES & MURDER, RESCUES, ROGUES & RENEGADE, TINSEL, TRIALS & TRAITORS, SANTA, SNOWFLAKES & STRYCHNINE, or FISHING, FESTIVITIES & FATALITIES and have the inclination, please leave a review with your favorite bookseller! and tell your friends. THANK YOU SO MUCH for your support! 
 
Mary
FOLLOW ME ON GOODREADS
FOLLOW ME ON BOOKBUB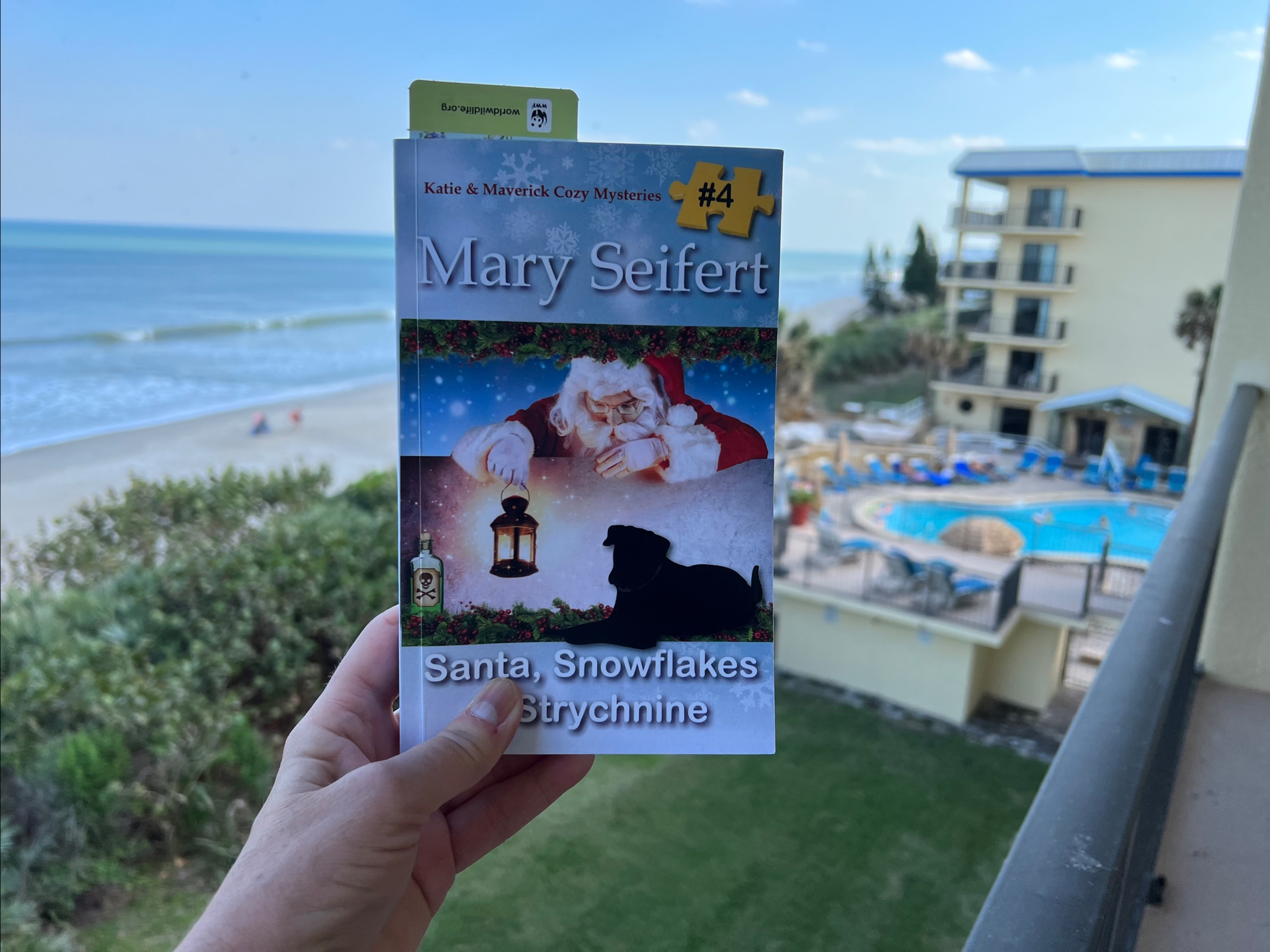 SANTA, SNOWFLAKES & STRYCHNINE made it to the beach in Florida!Thanks Lisa!!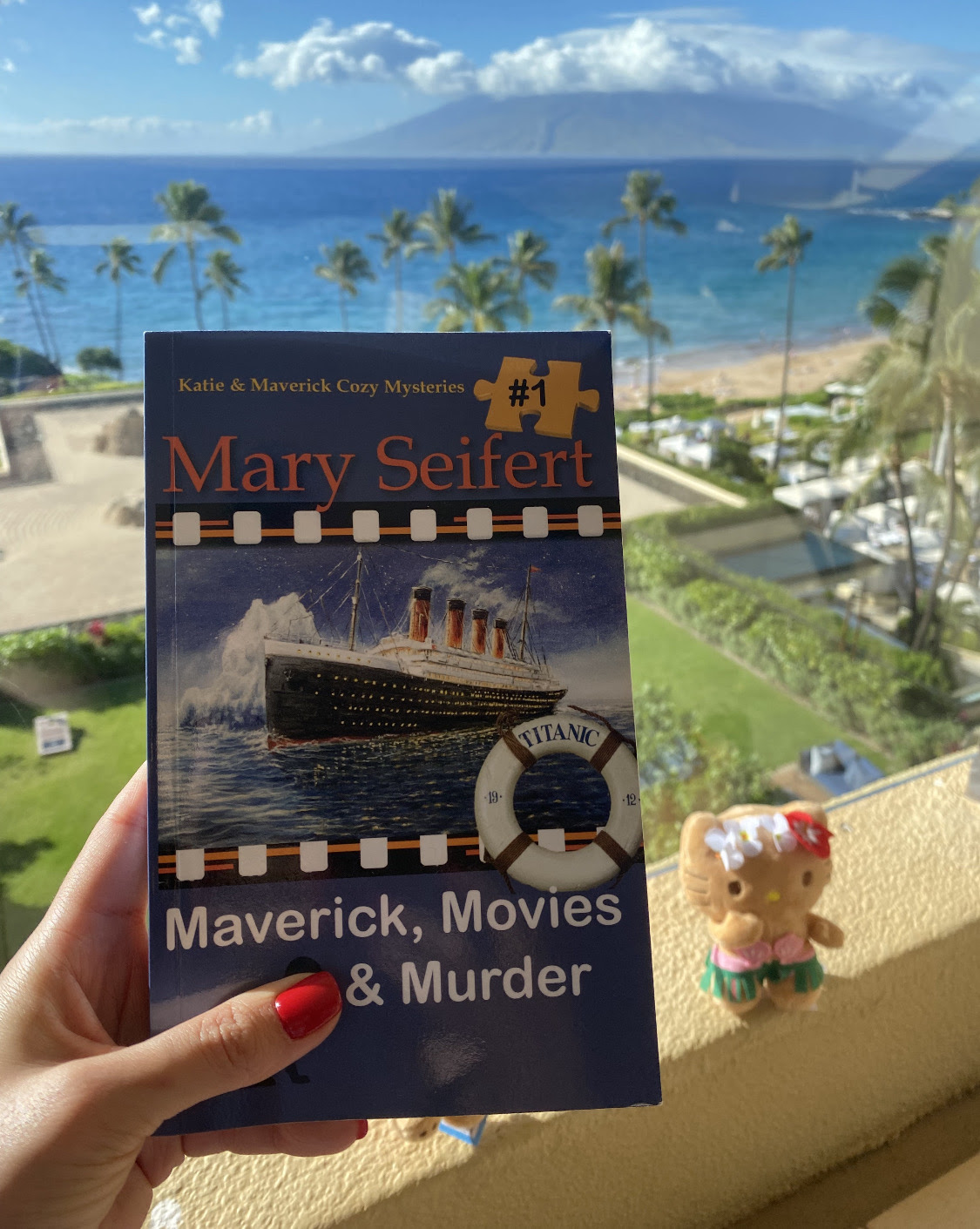 MAVERICK, MOVIES & MURDER is in Hawaii!!
Now sixteen distinct states, four countries, and two different continents. If your have a photo of a Katie and Maverick book you'd like to share, please feel free to email maryseifertcozies@gmail.com
Thanks CJ and Emely!